SRL Return to School Plan & Parish Updates
AN UPDATE FROM OUR PRINCIPAL, DR. STEPHEN BROWN
August 2020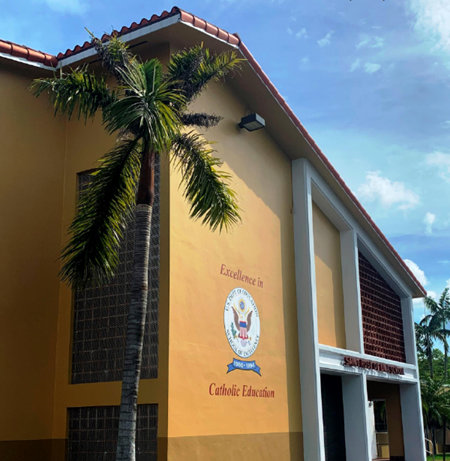 Dear St. Rose of Lima Family,
While many of us were remaining hopeful to resume school on campus, the Archdiocese of Miami has made the difficult decision to temporarily host classes remotely for all students in grades K-8 until mid-September. Preschool families have the option to attend in-person or virtually beginning August 19th.
Considering our recent circumstances, there has never been a more important time to provide a Catholic education to our children.
The level of care you will receive from our Catholic schools, especially at St. Rose of Lima, is second to none. Your family can rest assured that our trusted faculty and staff are fully prepared and committed to offer a personalized and extraordinary educational experience for every student. As you have noticed in our Return to School Guide (attached below), we have developed a sensible approach to easily transition between the virtual and traditional classroom. The ability to swiftly adapt to change is one of our many attributes that cannot be replicated by larger school systems. During this time of uncertainty, our faith community will provide your children a safe and steady connection to friends, a familiar environment, access to nurturing and highly-trained teachers, and an incomparable level of service that families have depended on for over 65+ years.
Your unwavering support has been inspiring and we promise to never let you down. Over the next two weeks, you will begin to receive updates regarding our virtual Back to School Orientation, distribution of school supplies, fun Home & School events, class schedules, and much more!
In the best interest of our children, please join me in standing united, no matter what lies ahead. Together, we will remain strong and help sustain the loving community our little ones depend on to thrive.
We've got this, Cardinals!
Gratefully,


Dr. Stephen Brown, Ph.D.
Principal
RETURN TO SCHOOL (RTS) GUIDE
CLICK HERE TO DOWNLOAD/PRINT THE FULL GUIDE

IMPORTANT PARISH NEWS
ST. ROSE OF LIMA LIVESTREAM
St. Rose of Lima will continue to Livestream Holy Masses. We offer this Mass for all those in need of healing and strength in these times of need. Click any of the three links below:

You may also view the livestream on our
Facebook Live page or
YouTube Channel by clicking the link below:
We will stream:
WEEKDAY MORNINGS at 8:15 AM
SUNDAY MORNING:at 9:00 AM in English and 1:00 PM in Spanish.
Please say this prayer during communion while you join us at the Livestream Mass