History of St. Rose of Lima Catholic School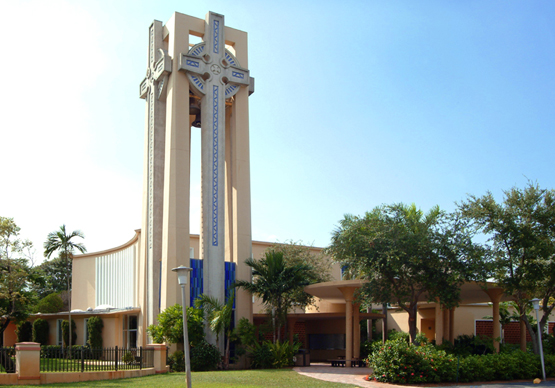 St. Rose of Lima Parish was founded October 12, 1948. The parish was led by Monsignor James F. Enright, who established the school on September 12, 1951. The first Principal was Sister Kathleen Marie, an Adrian Dominican. With one class per grade, 412 students were enrolled in Kindergarten through Sixth Grade in the 12 original school rooms. Additional classrooms were constructed in September 1954, and Grades 7 through 9 were added. School enrollment reached 737 pupils. In May 1955, the first Ninth Grade class graduated from St. Rose.
Sister Kevin Marie, O.P. became Principal in September 1957, and construction of four additional classrooms began the next year. Enrollment rose to 992 students. The third Principal, Sister Margaret Timothy, O.P. assumed leadership in September 1959. St. Rose of Lima's peak enrollment of 1,012 students was reached in January 1960. After 23 years of leadership, St. Rose's founder, Monsignor Enright, retired in 1971 and Father Noel Fogarty was appointed Pastor.
Construction of a new wing began in 1974 to provide Junior High classrooms. Additional space, in the form of administrative offices, a spacious library, an A-V room, and a fully-equipped science lab, was dedicated during the 1978-79 academic year.
The Adrian Dominican Sisters ceased administration of St. Rose of Lima School in June of 1980, and Mrs. Patricia Cantieri was appointed Interim Administrator for one year. Monsignor Noel Fogarty contracted with the Sisters, Servants of the Immaculate Heart of Mary from Immaculata, Pennsylvania, to assume educational leadership of the school. Sister Anne Bernard, IHM, became Principal in September 1981.
In an effort to address special academic needs, St. Joseph Workshop was established in January 1982. Originally a learning center for reading, the Workshop expanded to address various learning styles as well, and continues to serve the varied needs of many students today.
The School Advisory Board was established in 1982. Shortly thereafter, the Home and School Association was organized. In 1983-84, a pre-kindergarten program was offered and an After School Care program was instituted.
The Saint Rose of Lima School Development Board was established in 1983 for the purpose of establishing and administering an endowment for the school. This fund continues to grow and provide a sound financial foundation for the future of the parish and school. Interest generated by the Endowment Fund is used for teacher salary increases, technology, teacher education, and tuition assistance.
The award for Excellence in Education was given to St. Rose by the United States Department of Education in 1985. The following year, United States Secretary of Education, William Bennett, visited the school.
Sister Rita J. Murphy, IHM, St. Rose's fifth Principal, arrived in 1991. The same year, Father Seamus Doyle became the Parish Pastor. Through their leadership the school continued to thrive, and was awarded the National Excellence in Education award for the second time in 1995. A Spanish program was added to the curriculum, with two part-time teachers for Grades K-8. Technology was recognized as a priority, and the school was wired and readied for internet services. The Computer Lab was updated with new equipment. The faculty was immersed in the new technology.
Sister Nancy Kindelan, IHM, a 1970 St. Rose of Lima graduate, returned to her Alma Mater as the new Principal in 2000. The same year Celine Zigmont was appointed Assistant Principal. The responsibilities of this post were shared with Sister Jude Mary, IHM, who was also Director of Religious Education. In 2002 Sister Jude Mary was reassigned, and Ms. Mary Peltz became the new Director of Religious Education.
The Fiftieth Jubilee of St. Rose of Lima School was celebrated in 2001. A small courtyard in the school was transformed into the Grandparents Reading Garden, generously funded by Grandparents' Day donations. This lovely area is also a butterfly sanctuary, an ongoing project that gives pleasure to St. Rose students.
A closed-circuit television station, WSRL TV, went live in 2002, broadcasting the daily morning announcements to every classroom, with students involved in all aspects of production. The annual Fine Arts Weekend was established. It includes several performances of a large-scale student-acted musical drama, and an Art Show featuring work by every St. Rose student.
In subsequent years, the math program was expanded to include accelerated classes for students in Grades 5-8. Chess Club, student-based tutorial sessions, and an after school Reading Buddies program, were initiated. Several safety measures have been implemented for the security of our students, including new crisis procedures and additional safety equipment. The pre-kindergarten area was enclosed and new gates with fitted safety locks were installed. The school plant underwent yet another significant update with the construction of two elevators, to serve the requirements of students and staff with physical limitations, and to streamline maintenance tasks.
In 2008 Sister Nancy Kindelan, IHM was reassigned and Sister Bernadette Keane, IHM became the seventh principal at St. Rose of Lima School. She served until May, 2016. Monsignor Doyle, our Pastor for 21 years retired in January, 2012.
Following 34 blessed years of parish and school involvement from the IHM sisters, in 2016 St. Rose of Lima welcomed Rev. George Packuvettithara as our new pastor and its first lay principal, Mrs. Brenda Cummings, Ed.S. Mrs. Cummings served a one year transition term. A digital security check-in system was implemented for all visitors. Middle School expanded the use of Chromebooks to enhance the use of on-line components in the curriculum. School wide masses became weekly, and the social justice programs expanded. Accelerated Reader was instituted throughout the school and project based learning was implemented. The Title I program was brought in and the first ever National Junior Honor Society chapter was established.
In 2017 St. Rose of Lima welcomed Dr. Stephen Brown as principal. Many programs have developed to date and our enrollment has been on the rise. The preschool program was expanded to include a three-year-old program and a subsequent class was added. The Middle School Program expanded to include: 1:1 iPads; access to electives and added time for physical education; a block schedule to lengthen core instructional time; high school dual enrollment courses in Algebra & Geometry, and more. A state-of-the-art STREAM Lab was established with access to all grades and STREAM Expo nights were instituted. After school STREAM clubs were offered to all students and a life skills class was instituted in grades 4 & 5. In 2019, St. Rose launched its innovative SOAR initiative to further support the needs of all learners. Security increased to include an updated surveillance system, new high-impact classroom doors, a safe dismissal program, and an on-site police officer is present during school hours. Most recently, the campus has entirely refurbished to embrace flexible seating and further promote collaborative learning. SRL has also earned national recognition as a Kindness Certified School and Common Sense School.
While some changes to the school have been added over the years, our strong Catholic and academic program continues today. From the community to the national level, our students have been recognized for their outstanding achievement in academic, artistic, and athletic endeavors. Day by day, the history of St. Rose of Lima School is enriched by student and faculty accomplishments based on the tenets of our Catholic faith and built on the firm foundation of service to others. Traditionally known as A Good Place to Grow, St. Rose continues to flourish in the 21st century.