CORONAVIRUS (COVID-19) UPDATES
Dear Friends,
I am pleased to share with you the good news that we are moving toward a limited reopening of our church. It has been a difficult time for us since March 18thwhen our doors were closed for public masses. The Archbishop had to make a difficult decision to suspend public masses out of concern for everyone's safety and in an effort to stop the spread of the coronavirus. Now that the governor and the local governments have started to relax the restrictions, Archbishop Wenski has announced that we can begin to reopen churches for masses with a congregation starting with daily masses on Tuesday, May 26th.
READ FATHER'S COMPLETE LETTER ABOUT THE RE-OPENING OF THE CHURCH | LETTER IN SPANISH


ST. ROSE OF LIMA LIVESTREAM
Beginning Sunday, March 22, 2020, St. Rose of Lima will be Live Streaming Holy Masses. We offer this Mass for all those in need of healing and strength in these times of need. Click any of the three links below:

| | | |
| --- | --- | --- |
| | | You may also view the livestream on our Facebook Live page or YouTube Channel by clicking the link below: |
We will stream:
WEEKDAY MORNINGS at 8:15 AM
SUNDAY MORNING:at 9:00 AM in English and 1:00 PM in Spanish.
Please say this prayer during communion while you join us at the Livestream Mass.

---
ALL MASSES, ADORATION, EVENTS AND ACTIVITIES ARE SUSPENDED UNTIL FURTHER NOTICE.
*As of March 18th, the Archdiocese of Miami (ADOM) has suspended all public Masses and Adoration in the Church and the Chapel until further notice and the Church will remain closed.
* Our priests will celebrate Masses privately. If you have requested Mass intentions, please be assured that they will be offered. We are in the process of setting up Masses to live stream on our website. In the meantime you can visit EWTN. com or miamiarch.org
* EWTN in English: 8 a.m. daily, repeated at noon and 7 p.m. It can also be accessed at ewtn.com/tv/watch-live or heard at ewtn.com/radio/listen-live; or accessed at any time at: https://video.ewtn.com/daily-mass/.
* At this time, the Parish Office will remain open during normal business hours 8:00am - 4:30pm Monday through Friday.
* Please call the Parish office at 305-758-0539 to arrange for confessions, funeral needs, weddings, baptisms and pastoral care (including visits to the sick and homebound). Our regular confession times will remain the same but held in the kiosk.

* The Sunday bulletin will be available online. We also invite you to sign up the for the Sunday bulletin email so you can be up to date on the latest developments and receive the bulletins weekly. SIGN UP HERE

* Please be advised that the Sacrament of Confirmation at St. Rose of Lima Church scheduled for Saturday, April 4, 2020 has been postponed.
* As we confront this pandemic together in the coming weeks, please continue to support SRL through online giving. Please select the Parish soft button on the website in order to create your online giving account or you can text "Give" to 305-745-7781.
* Let us place our trust in God, who always cares for us. Let us pray for each other in this difficult time and continue to remain safe.
A REMINDER:
We want you to know that we are here for you. Should you need anything, please do not hesitate to contact us at the church office at 305-758-0539- Monday through Friday 8am - 4:30pm.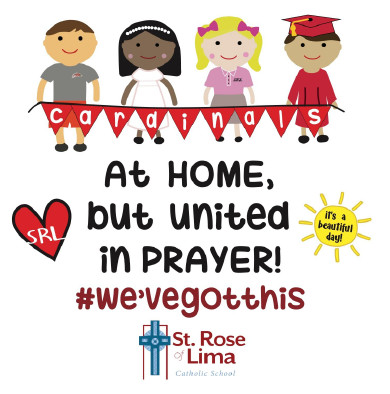 At HOME, but united in PRAYER!
Show your cardinal spirit while supporting our community and order your yard sign (18" x 24") today! 100% of the profits will be donated to the Archdiocese of Miami's Catholic Relief Services to support those immediately affected by COVID-19.

DEADLINE TO SUBMIT YOUR ORDER IS THIS MONDAY, APRIL 27TH. Please drop off payment via cash or check to the church office. ​Signs will be available for pickup Monday, May 4th in the SRL parking lot between 10am and 11:30am. Delivery is not available.
Click here to order yours!

Archbishop Wenski issues statement regarding the celebration of Masses and suspension of other events
Archdiocese of Miami to celebrate the Lord's Day but will be guided by prudence and best counsel of civil authorities and medical professionals in the coming days.
CLICK THE IMAGE ABOVE FOR THE FULL STATEMENT

MESSAGE FROM ARCHBISHOP WENSKI

Dear Brothers and Sisters,
The coronavirus pandemic continues to pose new challenges for us all. Today, we find ourselves in a time of twin crises: the worst global public health crisis in our lifetimes and the worst economic crisis since the Great Depression. Yet, around the world, we are united in common purpose of caring for the sick, pursuing a cure, and lifting the human spirit.
[READ MORE...]

Dear Brothers and Sisters,
The COVID-19 pandemic continues to challenge us. Southeast Florida leads the State in the numbers of people infected; and, to be sure, all of us are affected. I pray that your greatest challenge will be only how to cope with some boredom and perhaps cabin fever because of the need for "social distancing."
Yet, as people of faith, we trust in the power of prayer and in the providence of our loving God; as a people of hope, we know that God will never abandon us; as a people of charity, despite our own fears and anxieties, we must stand in solidarity with all our brothers and sisters who are infected or affected by this pandemic.
[READ MORE...]


Dear Brothers and Sisters,
The coronavirus pandemic has shaken our world – and our lives. Like in the aftermath of 9/11, we feel like the world has changed; but we don't know yet what the "new normal" will be. But as a people of faith, we trust in the power of prayer and in the providence of our loving God; as a people of hope, we know that God will never abandon us; as a people of charity, despite our own fears and anxieties, we stand in solidarity with all our brothers and sisters who are infected or affected by this pandemic. [READ MORE...]
VIEW THE VIDEO BELOW