Kindergarten
St. Rose of Lima kindergarten follows the curriculumof the Archdiocese of Miami. The students receive instruction in enrichment classes as well as these coresubjects. We learn through whole group, small group, and individual activities. To engage and promote active learning, we implement the use of technology through the interactive Smart Board. This enhances our curriculum and makes learning fun and exciting. Students participate daily in Neuro Net; a learning readiness application designed to help students develop helps promote independent learning and problem solving techniques.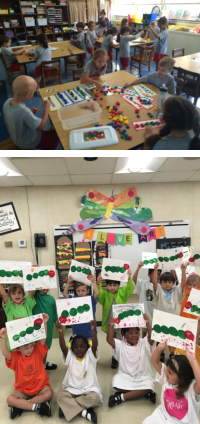 Religion
Our students learn about growing in God's love, sharing God's love and celebrating God's love through our "God Loves Us" series. There is also daily prayer and weekly school liturgy.
Language Arts/Reading
Our language arts series has many components: whole group story time for comprehension skills,listening skills and visual discrimination skills. There are small group activities to reinforce the pre-reading skills, phonemic awareness, decoding skills and oral expression. Students also write daily in journals to develop written language skills.
Math
The "My Math" series used covers all areas of the numbers, measurement, classifying objects, positions, and 2D and 3D shapes.
Science
"Science Fusion" teaches the Kindergarten students about making observations of the natural world by using our five senses, learning through these observations about animals, plants, our earth, seasons, day and night, matter, energy and motion.
Social Studies
Kindergarten students learn about chronological thinking through their daily calendar time and discussing daily and weekly schedule of events. Character building takes place through learning about people of the past who have shown honesty, courage, and responsibility. We learn the importance of rules and laws. Students follow the "I Care" rules to help us make good choices throughout the day. Discussions about being a good citizen in our great country and how to resolve conflicts that are consistent with being a good citizen take place. Other topics include comparison of family lifestyles, different kinds of jobs, and basic needs. Scholastic Magazine is used to reinforce many of these concepts throughout the year.
Handwriting
Muscle development is important in this area. Students develop the correct pencil grip and learn to print uppercase/lowercase letters and numbers from memory. They also learn a left-to-right and top-to-bottom printing pattern. This is important also for reading skill development.