Social Studies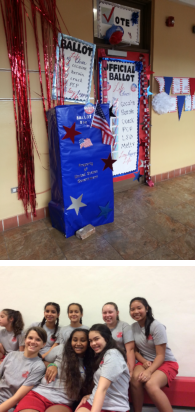 Sixth Grade
Sixth graders are studying the history of the world. The students begin by exploring what historians do and determining the role of geography, economics and citizenship on the study of various periods of time. They will then, over the course of the year, be examining a variety of early civilizations, including but not limited to, those of Greece, Rome, and China.
Seventh Grade
The seventh graders begin the year studying the basics of geography and the impact it makes in their lives. As the year continues, they will be exploring government on both the state and national level. In addition, the students will be developing a deeper knowledge of geography and an understanding of the impact of economics on their lives. While all of these topics were once included in the study of United States history, it is now possible to investigate these areas in greater detail.
Eighth Grade
In the beginning of the textbook, the eighth grade students begin examining skills involved in the study of history itself. These skills will help the students to discern what is truth or fiction and what is fact or opinion. These skills will enhance the "ongoing investigation." of history that they will explore this year as they study American history from the time of exploration to the period of Reconstruction after the American Civil War.