Religion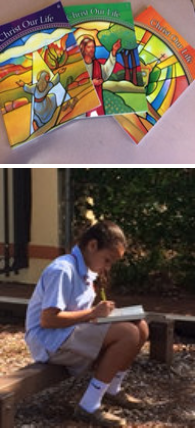 Sixth Grade
This year the students will study the Old Testament and its meaning for us. The study of the Old Testament guides the students to see in Jesus the fulfillment of all our Lord has promised as well as the perfect response to His love.
Seventh Grade
This year the students will learn more about how to live and nourish their faith through the study of the New Testament. The students will see how Jesus listened, prayed, sought time alone, and had priorities, setting examples for all of us.
Eighth Grade
During this year the students will examine and understand the meaning of the Church, the History of the Church and Morality. These provide a good foundation for the Sacrament of Confirmation. The Decision Point book by Matthew Kelly will also be used to help the students prepare more fully for the Sacrament of Confirmation.
During the year, the students will also attend and help plan weekly Masses, Sunday Masses, and receive the Sacrament of Reconciliation. The 8th grade students will also perform 25 hours of service in preparation for Confirmation.