English / Language Arts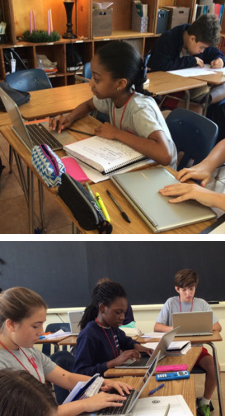 The English curriculum prepares students to correctly and effectively express themselves in written and oral form. The program provides the foundation for:
• Composition
• Grammar
• Mechanics and usage
• Spelling
• Vocabulary and word study
Students employ foundational elements and the writing process to compose a variety of writing pieces such as:
• Creative and narrative works
• E-mails and letters
• Journal entries
• Persuasive Essays
• Informative essays and research papers
Students also learn strategies for revising and editing work, research, study and test-taking skills, and public speaking. Students produce short and long-term written projects that integrate subject matter from other content areas. Students also learn the fundamentals of online collaboration by participating in class blogs, online discussions, and shared documents using Google Classroom. For standardization in all Middle School publications, students use a modified version of the Modern Language Associates Format (MLA).
Essential literary areas include, but are not limited to comprehension, critical thinking, and reading strategies. Other areas include literary elements, such as understanding short stories, character development, and following the plot of a story.
Vocabulary units are structured to learn words and grammar in context, word completions and meanings, synonyms and antonyms, word families and associations while reading.