Music Instruction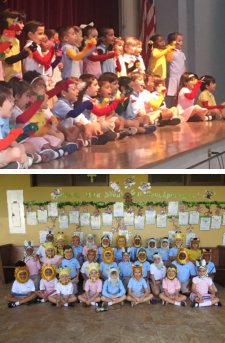 Music is an enriching and powerful formof expression for the human spirit. It has been an integral part of education as early as the time of ancient Greece and it continues to be taught in schools today. As part of school curriculum, music relates to other arts and other disciplines outside the arts, such as the core subjects of math and reading.
Students are taught to value music as an important part of life. Students experience music through singing and playing instruments, as well ascomposition and improvisation. They learn to read and write music with accepted notation and explore music history through listening and reading. As members of a Catholic community, they learn the importance of music as part of the mass and they are encouraged to praise God through hymns and other sacred songs both in music class and at weekly mass.
Students are assessed through participation and performance, as well as assignments, projects and quizzes in the older grades. The continuous development of music skills will encourage the artistic growth, as well as the academic achievement, of each student here at St. Rose of Lima School.