Computer Lab - Technology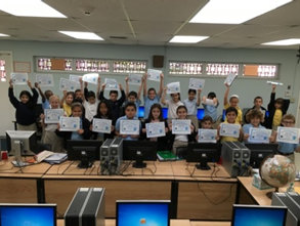 Educational Technology is a foundationalcomponent of student thinking skills. St. Rose of Lima students will integrate hardware and software in the technology lab to expand their knowledge of technology tools and how to use them appropriately and fluently in today's digital society. Computer etiquette and on-line safety are a key component for all grade levels.
In grades pre-kindergarten through second, emphasis is placed on basic technology operations and concepts including correct identification and usage of technology equipment and terminology. A variety of age appropriate technology lab exercises and activities will be used including an introduction to concepts of coding. Additionally, activities in theTechnology lab will reinforce classroom subject curriculum via a variety of age appropriate programs that may be on the school network or on the Internet. St. Rose of Lima offers their students subscription based programs such as Accelerated Reader, ALEKS, and Education City.
Students in grades three through eight expand their technology skills and focus on learning proper keyboarding techniques and increasingly sophisticated specific computer productivity tools for word processing, spreadsheet applications, presentation software and age appropriate multimedia tools. Internet research skills are used in conjunction with classroom curriculum subjects. Students refine their Internet research skills and use a variety of media and formats to communicate ideas to others. Programs and apps used in the lab include Google Docs, Google Spreadsheet, and Google Presentation.